Binance Review and Comparison
By: Ofir Beigel | Last updated: 5/29/23
Binance is one of the leading trading platforms around, supporting over 500 cryptocurrencies and more than 180 countries. In this review, I'll cover the main things you need to know before signing up.
Don't Like to Read? Watch Our 2 Minute Binance Review
---
Binance Review summary
Binance is a crypto trading platform that offers some of the most competitive fees around. Whether you're a beginner or a seasoned trader looking to trade crypto, this is probably the easiest and cheapest way to go.
The platform accepts users from around the world and has received favorable reviews from the crypto community. The exchange has also partnered with 3rd party companies such as Simplex, to allow credit card and wire transfer purchases of cryptocurrencies at a premium. US users must trade on Binance-US, which differs slightly from the Binance service available to the rest of the world – however it is much more compatible with US trade regulations.
That's Binance in a nutshell. If you want a detailed review of Binance, keep on reading. Here's what I'll cover:
---
1. Binance Overview
Binance is a cryptocurrency exchange that was founded in 2017 by Chinese-Canadian developer, Changpeng Zhao (aka CZ). Zhao's company Beijie Technology created the exchange after a successful ICO that raised $15 million. Having originally been based in China, Binance moved headquarters to the Cayman Islands following the Chinese government's increasing regulation of the cryptocurrency industry.
Investors who invested in Binance's ICO got Binance Coin (BNB) in return, which could be used to trade cryptocurrencies and pay for fees on Binance. BNB is now also used to power BNB Chain, formerly known as Binance Smart Chain. BNB's initial value was around $0.1, and has continued to appreciate with the rise of Binance and BNB chain.
Beijie Technology and its founder maintain an impressive track record within the industry. Zhao's CV includes high-profile positions, such as technical director at Blockchain.com, and his company now provides trading systems for over 30 other platforms.
Following struggles with the Chinese government's views on cryptocurrencies, Binance now runs its servers from more lenient states, providing it with the freedom to run a competitive exchange service:
"In response to China's decisions, we are moving our IP's from Hong Kong to an offshore location. So we are registered in multiple locations and we have people in multiple locations. That way we will never be affected by one regulatory body," explained Zhao.
The exchange has experienced astounding success since its launch and comfortably sits at the number 1 spot in terms of 24-hour trading volume on Coinmarketcap. It typically has more than 5 times the 24-hour trading volume of its closest competitor, Coinbase.
---
2. Binance Services
Binance Exchange
Binance's Exchange allows users to exchange fiat for Bitcoin or other coins. There are several ways you can buy crypto on Binance:
P2P trading
A very neat feature, Binance provides a peer-to-peer (P2P) trading service, which connects buyers and sellers of cryptocurrency directly. This facilitates fiat payments, with a wide variety of payment options that depend on the users' preferences.
Credit/Debit card:
Binance has partnered with Simplex to provide a brokerage service supporting credit and debit cards. This service allows you to buy a variety of different cryptocurrencies with a credit or debit card, as well as using these cards to deposit fiat currency into your account. However, this service comes at a premium that can get as high as 4.5% in fees for USD deposits using a debit card.
SEPA/Wire transfers
Thanks to integrations with additional 3rd party providers, Binance now allows its users to buy crypto directly with fiat using SEPA & bank transfers. This option is especially attractive, as SEPA & wire deposits entail no transaction fee at all. On the downside though, this payment method is only available for a few fiat options such as SEPA for EUR & GBP (excluding the Netherlands & Switzerland), and wire transfers for USD (domestic wire & ACH), TRY & BRL.
Last, Brave, the privacy-focused browser integrated a Binance Widget for in-browser trading. The widget allows users to buy and trade crypto through Binance, as well as view and manage their crypto portfolio.
---
Binance Trading Platform
Trading on Binance is fairly easy and user-friendly. There's an impressive cryptocurrency selection available for trading, in conjunction with Bitcoin, Ether, BNB, XRP, TRX, DOGE, DOT, BUSD and Tether trading pairs. There is also a large selection of crypto-to-fiat pairs available on Binance's fiat markets.
Users can choose between a beginner-friendly or advanced trading interface for spot trading, catering to all types of users. The platform also offers margin, derivatives, peer-to-peer and OTC trading options.
Spot trading
For spot trading, users can select between two primary interfaces. The "Convert" interface is the beginner-friendly option, which removes all of the advanced features such as charts and different order types. This makes it easy for newbies to swap between cryptocurrencies at market rates, without any confusion.
There is also a regular trading interface for advanced users, which has all of the typical exchange features – charts, order books, different order types and more are all accessible in the default spot trading interface.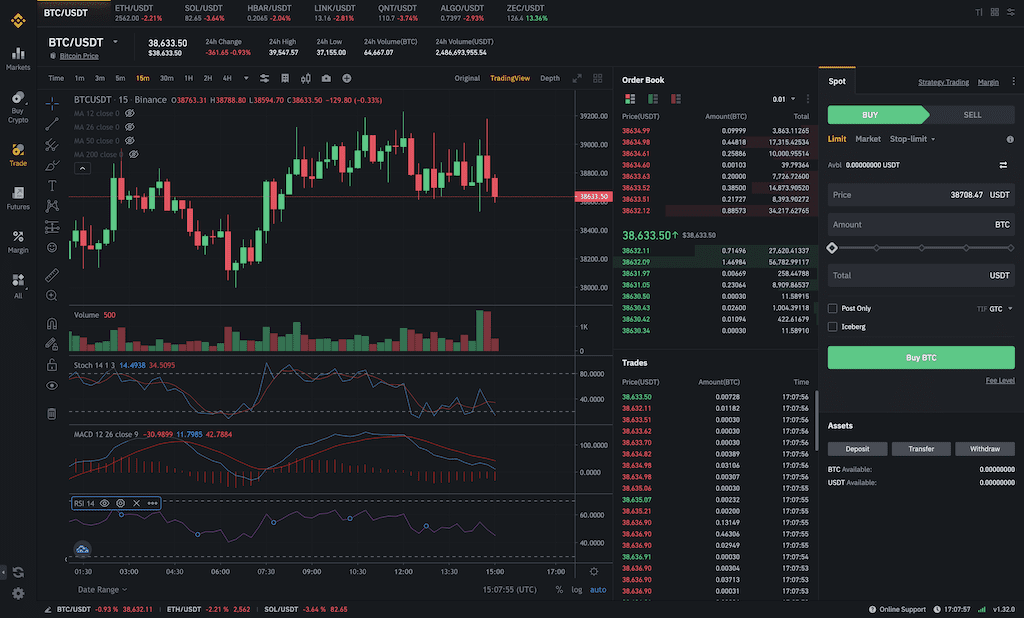 Margin Trading
Margin trading is available for selected trading pairs, allowing users to trade with leverage of up to 10x on some coins. Users can choose between cross margin, which risks your entire margin account balance, and isolated margin, which restricts your potential losses to a single trading pair. Binance margin trading is not available to users of Binance US.
Binance also offers leveraged futures trading, which I'll cover in the next section.
---
Binance Futures and Derivatives
Binance Futures, which was launched in 2019, enables traders to speculate on the price of (rather than purchase and sell) Bitcoin and various popular cryptocurrencies, including Bitcoin Cash, Ethereum, Litecoin, Ripple and more.
The platform allows leveraged trading of up to 20x, which means that traders can multiply their profits (but also losses) by 20 times.
Binance Futures balances are held separately from users' regular trading accounts and must be funded with Tether (USDT) as collateral. All profits and losses will also be realized in USDT.
The user interface for Binance Futures looks almost identical to the Binance spot trading interface, aside from a few extra functions for controlling leverage and viewing open positions.
Fees on Binance Futures are slightly different from their spot markets, with maximum trading fees of 0.04% on any trade. Fees are lower for "maker" trades (which add liquidity to the order book before execution), or for users with large monthly trading volumes.
Binance also offers futures that are collateralized using non-stablecoin cryptocurrencies such as Bitcoin or altcoins, under a separate tab named "Coin Futures".
Additionally, Binance offers derivatives called "Leveraged Tokens", which provide UP and DOWN contracts betting on the price of certain cryptocurrencies. These give the buyer leveraged exposure to cryptocurrencies without the risk of liquidation.
Unfortunately, Binance has been forced to suspend their derivative trading in many countries across Europe, starting with Germany, Italy and the Netherlands and also recently extending to the United Kingdom and Spain. This comes after pressure from global regulators, particularly those in Europe who have decided that Binance is unauthorized to provide investment services. This has forced the exchange to stop offering the services to new customers and wind down usage among existing customers.
---
Binance Financing
The latest addition to Binance's services is its financing option:
Savings
Binance Savings allows users to make a return on idle funds, through "flexible" or "locked" account types. Flexible savings accounts yield variable interest rates, while locked savings accounts pay higher interest on fixed-term deposits.
Staking
Binance also provides a staking service, which allows users to earn returns on proof-of-stake and decentralized finance (DeFi) coins, without needing the technical knowledge to stake the coins themselves. Similar to the savings accounts, the staking service is available in flexible and locked options.
Binance Smart Pool
Binance Smart Pool allows miners to contribute to a larger mining group which splits rewards. Hash power is automatically redirected to the most profitable cryptocurrency to mine at any moment, providing users with hands-free optimization.
Binance Visa Card
The Binance Visa Card allows users to spend their cryptocurrency holdings in places that only accept fiat currency via credit or debit card. Behind the scenes, your crypto holdings will be converted to fiat when you make a purchase (with zero fees), so that you don't have to hold fiat on-hand. The card is completely free with no admin or processing fees and lets you earn up to 8% cashback on eligible purchases.
Crypto Loans
Binance Loans offers loans to users in a variety of tokens, collateralized with some of the more popular tokens like, BTC, ETH and ADA. This provides an easy way to get your hands on stablecoins like USDT, BUSD or USDC, while maintaining exposure to your cryptocurrency holdings and avoiding the taxable event of selling crypto.
Binance Liquid Swap
Binance Liquid Swap is an automated market-maker (AMM) platform, similar to Uniswap, and is based on a pool of liquidity. There are two tokens in each pool, and the relative amount of tokens determines the price between them. Liquid Swap offers more stable prices and lower fees for large transactions. Users can trade coins on Liquid swap with minimal slippage, or provide their liquidity in return for a share of fees. The key difference between Binance Liquid Swap and Uniswap is that Liquid Swap is centralized.
Binance.US Exchange
Binance.US is a separate, US-specific version of Binance global, that is designed to cater directly to rules and regulations in the United States.
Launched in 2019, Binance US was created to ensure a compliant and stress-free trading experience for US users. A key benefit is that US users can deposit USD directly into their trading account, as well as trade directly against the US dollar.
The platform is a slightly more simplified version of the global exchange, however carries most of its core trading features – including low fees capped at just 0.1%. At the time of writing, Binance.US even has zero-fee trading on Bitcoin trading pairs against USD and most US dollar stablecoins, as it seeks to gain a larger market share against its local competitors.
Unfortunately, a much smaller range of assets are available to trade on Binance.US when compared to the global platform. Trading volumes also tend to be significantly lower.
Aside from trading services, Binance.US also offers staking for proof-of-stake (PoS) coins. This provides an easy way for token holders to participate in these networks and earn staking rewards, without the need for technical expertise or any special hardware/software requirements.
---
3. Currencies and Payment Methods
All in all, there are over 500 coins available to trade, deposit and withdraw on the exchange, including major altcoins such as:
Binance USD (BUSD)

Basic Attention Token (BAT)

Cosmos (ATOM)

Nano (NANO)

Paxos Standard (PAX)

TrueUSD (TUSD)
Crypto can be traded for fiat (or other crypto) on the trading platforms or purchased directly using these payment methods:
Credit/ Debit card

SEPA

Bank transfers
---
4. Binance Fees
In a competitive space, the fee structure of Binance is cutting edge. Its team members have sharpened their knives and are slicing the opposition apart.
Spot trading fees start at 0.1% which is very enticing for any trader who doesn't need immediate fiat liquidation. Binance has a VIP level system that reduces rates as your 30-day trading volume increases. The lowest spot rates for VIP level 9 are 0.02% / 0.04% for maker orders and taker orders. Traders that use Binance's futures trading platform enjoy even lower fees, starting at 0.02% / 0.04% for VIP level 0 maker and taker orders, but can go as low as 0.00% / 0.01% for the highest volume VIP level 9 traders.
Incredibly, Binance undercuts most other large exchanges, some of which charge upward of 0.2%. That's a pretty sizable difference if you're working with large orders.
Users who hold BNB, the native Binance token, will receive an additional 25% discount on transaction fees when using BNB to pay fees. This is a promotional discount that was announced back when Binance launched in 2017, and was due to be discontinued on Binance's 5th anniversary on July 13th 2022 – however has been extended for an extra year, until July 13th 2023.
Deposits are free, as you'd expect (aside from blockchain fees that are always paid by the sender). Withdrawal fees do apply, although they generally correlate with the blockchain transaction fees as well.
Binance withdrawal fees for fiat and crypto seem to be updated on a regular basis, to try and offer a fair price.
---
5. Binance Limits
Binance uses the same VIP ranking system mentioned earlier to dictate withdrawal limits. The lowest level VIP level 0 members can withdraw up to 8,000,000 BUSD within a 24 hour period. The highest level VIP level 9 users can withdraw up to 96,000,000 BUSD in a 24 hour period.
---
6. Supported Countries
Binance does not explicitly mention which countries are supported by its exchange, however it is essentially available worldwide with a few exceptions.
Customers from the USA can now use Binance US after Binance withdrew its main service from the country. Binance US was launched in 2019 after the platform came under fire by the US Department of Financial Services radar for potential violation of New York's virtual currency regulations.
Although Binance doesn't clearly say which countries are restricted, there have been reports from certain users that Binance has closed their accounts for living in certain countries such as Iran and Serbia. On May 2023 Binance has officially declared it will no longer support the Canadian market.
---
7. Customer Support and Reviews
There's a lot to love about Binance, and many traders continue to be upbeat about the service. Low fees, a responsive exchange, and developers with a proven track-record leave most people beaming. Binance has generally been considered an overwhelming success in its life so far.
Binance has a comprehensive support page, with an extensive FAQ section that will answer or guide you through most problems you may encounter. If the FAQ section can't help you, there is an automated bot to help you find the answer to your question or resolve your problem. If that doesn't work, you can submit a request to chat with a customer service representative.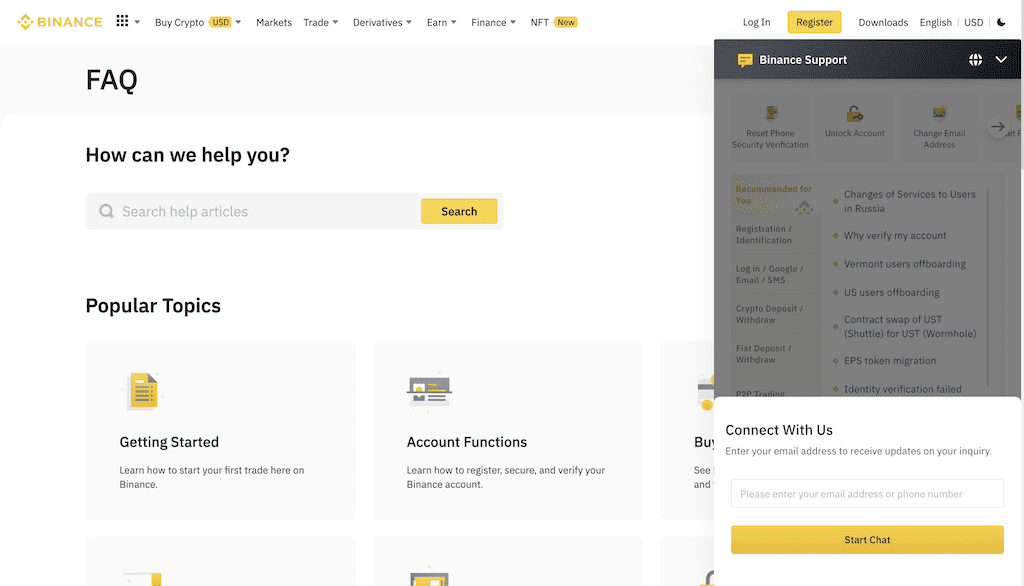 If you already have a case ID, you can send a direct message to the Binance Help Desk Twitter account, or use the Binance Support Thread on Reddit quoting your case ID. Do keep in mind that you may have to wait a while for a response, simply due to the sheer volume of cases that are submitted.
Complaints about Binance's verification methods and live chat support have become more common following their shift to compulsory identity verification. This appears to involve unnecessarily long waiting times within the "live chat" function of as long as 12 hours, in many cases without successful assistance or resolution of verification issues. It is unclear whether this is a temporary issue due to high traffic, or a problem that will continue to linger for Binance users.
The exchange has also historically had issues with faulty 2-factor authentication, however this appears to no longer be a common issue.
A unique allegation that came up against Binance is that it lists coins (more specifically shitcoins) in exchange for money. This claim was denied by the company.
---
8. Binance vs. Other Exchanges
Since Binance provides only trading services I will compare its fee schedule to other reputable trading platforms.
Binance vs Coinbase (pro)
Coinbase Pro is Coinbase's trading platform. It is one of the leading exchanges around in terms of reputation and adoption.
Aside from the limited availability of the platform worldwide (supports 103 countries), the platform fees start at 0.6%, 6 times higher than the highest fee tier on Binance. You can read my full Coinbase review here.
Binance vs Bittrex
Bittrex is a US cryptocurrency exchange that has grown in popularity among crypto traders since launching its operations in December 2014. Its steady growth has made it one of the most preferred altcoin exchanges on the market. You can read our full Bittrex review here.
Bittrex fees start at 0.35%, which is 3.5 times higher than what Binance fees start at. The exchange offers over 330 altcoins, which is more than most exchanges but not quite as many as Binance.
Binance vs Bitfinex
Bitfinex, one of the world's biggest Bitcoin exchanges by volume, offers advanced trading options such as Bitcoin margin trading which is suited more to advanced traders.
Bitfinex supports over 150 cryptocurrencies and tokens, which is significantly less than Binance which supports over 500. You can read my Bitfinex review here.
Bitfinex works on a maker/taker fee schedule. Maker orders, which add liquidity to the exchange, have a 0.1% fee at maximum (similar to Binance). Taker orders, which remove liquidity from the exchange, have a 0.2% fee at maximum (twice than Binance).
Just like on Binance, fees are reduced as your trading volume increases.
Binance vs Kraken

Kraken, headquartered in San Francisco, California, is one of the oldest cryptocurrency exchanges around. It operates across the United States (with the exception of New York due to the BitLicense), as well as in the European Union and Japan.
The platform supports over 110 different cryptos, much lower than the 500 cryptos found on Binance. You can read my Kraken review here.
Like Bitfinex, Kraken Pro also works on a maker-taker fee schedule. Makers have a max fee of 0.16%, while takers have a max fee of 0.26%. In both cases Binance wins with lower fees. Non-pro Kraken users have even higher fees of 0.9% for stablecoins and 1.5% for other cryptos.
---
9. Frequently Asked Questions
Can I Withdraw Money from Binance?
You can easily withdraw cryptocurrencies from Binance, as well as a variety of fiat currencies including USD, GBP & EUR. For a full list of fiat currencies along with the relevant withdrawal fees, click here. 
Can I Buy Bitcoins on Binance?
Yes. It's possible to buy Bitcoin on Binance with a credit or debit card, as well as any supported cryptocurrency or fiat currency deposited into your account.
How Do You Buy Bitcoins on Binance?
1. Sign up to Binance
2. Deposit funds to your account
3. Find the trading pair for Bitcoin and the deposited crypto or fiat currency
4. Sell the deposited crypto or fiat currency for Bitcoin
5. Withdraw the Bitcoins to your own wallet

Alternatively you can just buy Bitcoin directly with your credit card.
Is Binance Safe?
Binance is considered a safe exchange that allows user account protection via the use of Two Factor Authentication (2FA).
On May 7, 2019, Binance suffered a major hack which resulted in 7000 Bitcoins being stolen from the exchange. However, Binance stated that all losses would be covered by its emergency insurance fund (aka SAFU).
---
10. Conclusion: Is Binance Safe to Use?
When we pull everything together and look at Binance objectively, the pros far outweigh the cons. This is more than can be said for some other competitors.
The exchange's low fees, combined with the team's proven knowledge of how to build a trading platform, is enough to make it a major player.
It's no wonder that Binance leads the pack when it comes to daily trading volume. Add to this the ability to offer a truly worldwide service away from the grip of the Chinese government, and there's not much to stop Beiji Technology.
Have you had any experience with Binanace? I'd love to hear it in the comment section below.